Meet Vista Apex – Denise Matel, Distribution Sales Manager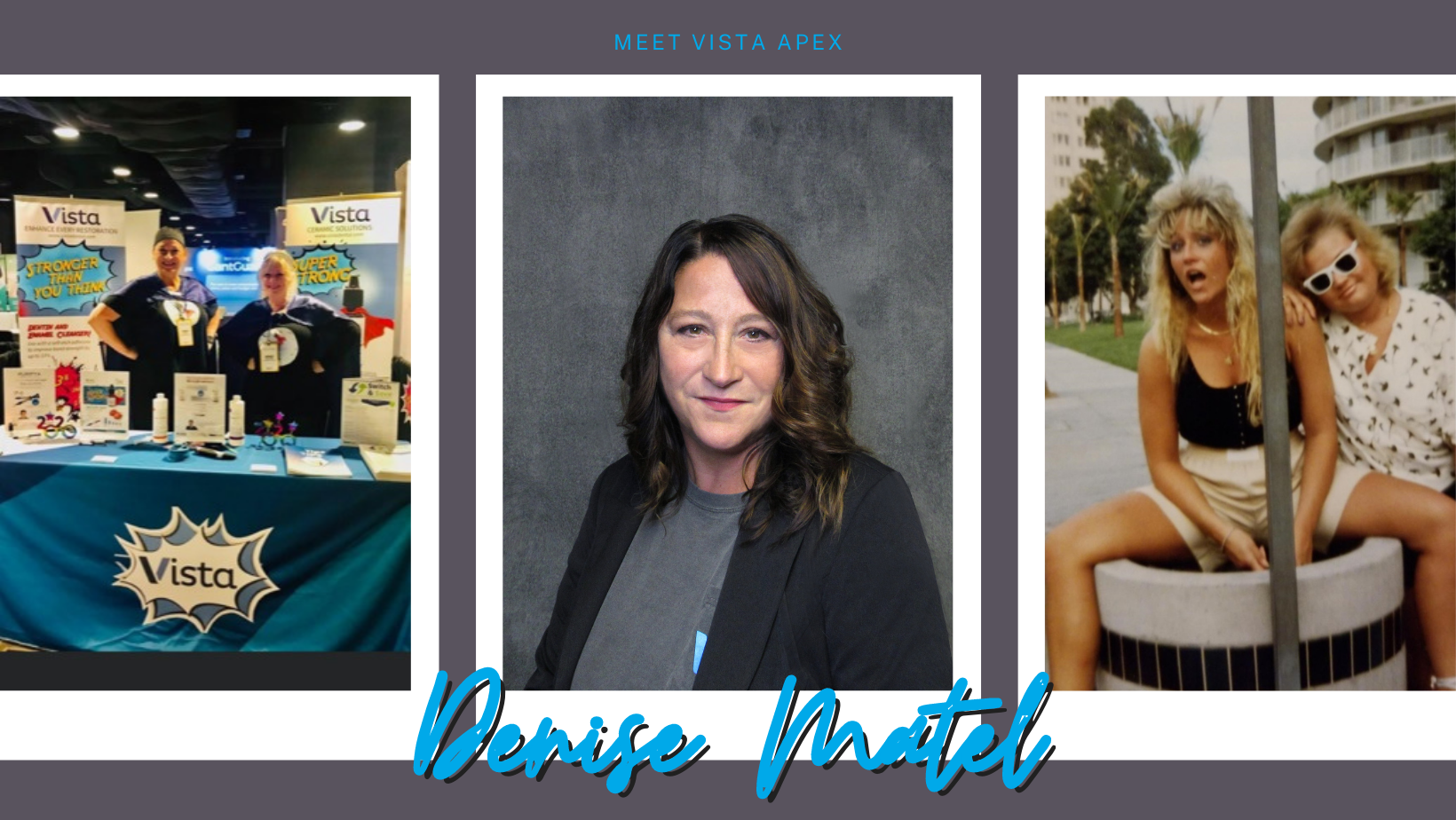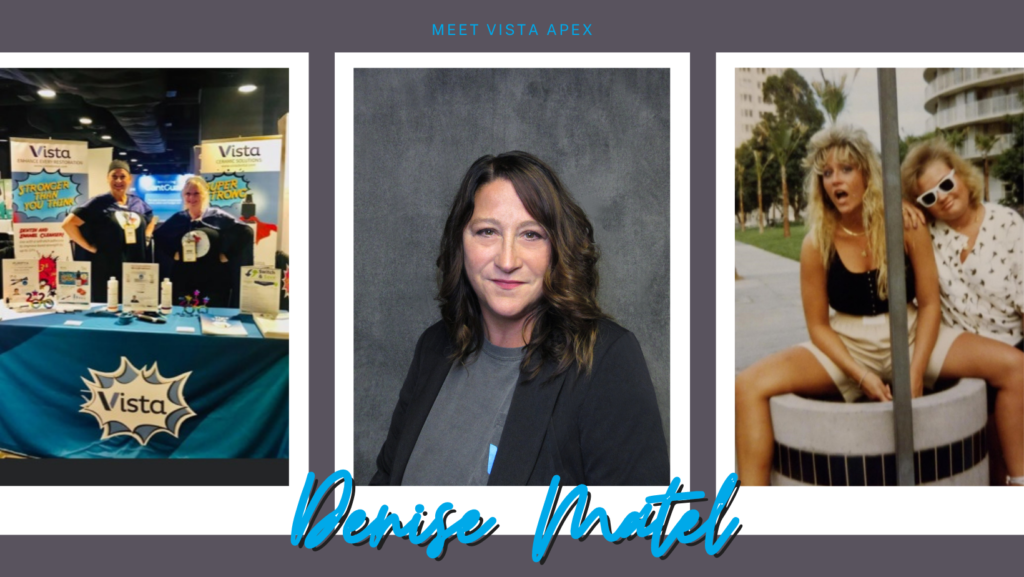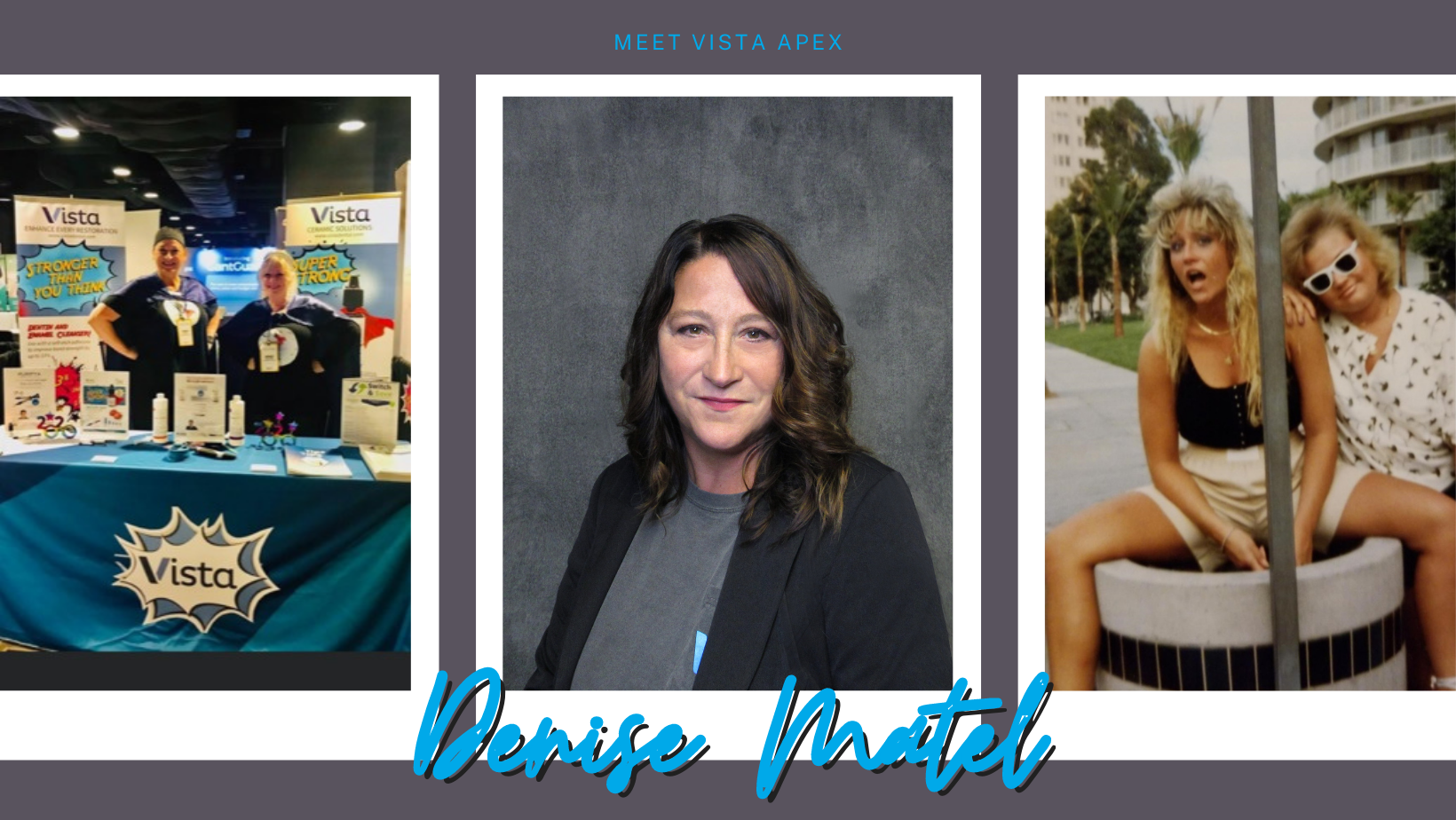 Meet our real-life Vista Apex rockstar! This distribution sales manager is a real wild card! Not only did she happen to meet Pauly Shore at a red light in LA but she was invited by him to an MTV production that looked like a real-life "Girls Gone Wild" Spring Break Episode – Beach, Beer tent, Dance floor, Volleyball, and all! What happened, we may never know!
Tell us about yourself and how you got here
I was actually a Category Manager at a Grocery Wholesaler – worked there for 23 years, my entire adult life at that time. Came in one day and the proverbial pink slip was on my chair. Just like in the movies. The company had decided to centralize and I was being let go. I had the opportunity to interview for my same position in Virginia and Minneapolis, but at the time my father was home with hospice dying of cancer. I decided that I was staying put and it was a blessing in disguise because I was able to spend every day with my dad. I would go to interviews and come back to see him and he would say "The right job is going to come and it is going to be everything you have ever wanted, you wait and see."
My father passed away on August 17th of 2014. I have no regrets that I didn't get enough time with him. In October of 2014, I interviewed with Vista Dental. I remember getting home from the interview and my phone rang. It was the VP at that time and he offered me the job. With my old job, I would go to the Housewares show every year at the McCormick Center. So the first time at CMW, I was shocked that the McCormick Center would have that many booths associated with dental. I had no idea how many manufacturers represented the dental industry – MIND-BLOWING.
It was so different than what I was used to. I will never forget my first week on the job, I was in West Allis training Henry Schein Reps about the EndoUltra® and I didn't even really know what it was myself! ? Truth be told, I thought this was my interim job. That one job that I would have for a year – maybe two – until I found that job I would have until I retire. That one year turned to two, turned to three, and now over 6 years later, I am still here!
What is your favorite part about what you do?
By far my favorite part is the interaction with people – at a corporate level as well as Territory Reps. I love learning about a new product and taking what I know into the field to train our Dealer Reps on how to sell it. I love attending Dealer events where I have the opportunity to get in front of customers and talk about our products. When Covid hit early 2020, "in-person" interactions ceased. We learned to have meetings via Zoom or Microsoft Teams – training became virtual. And those were all good, but just not the same. I look forward to a time where travel opens up again and this virus subsides, so I can get out again and physically interact with people.
What makes you Vista Apex?
Well, I was the lead singer in a classic rock band for 6 years, started at age 20 and ending at 26. At that time I had long blond hair (COMPLETELY bleached) and I kind of thought I was Lita Ford. Vista Apex loves trying new things and really bringing the edge and I'm not sure I can get much cooler or edgier than that! ?

---
---