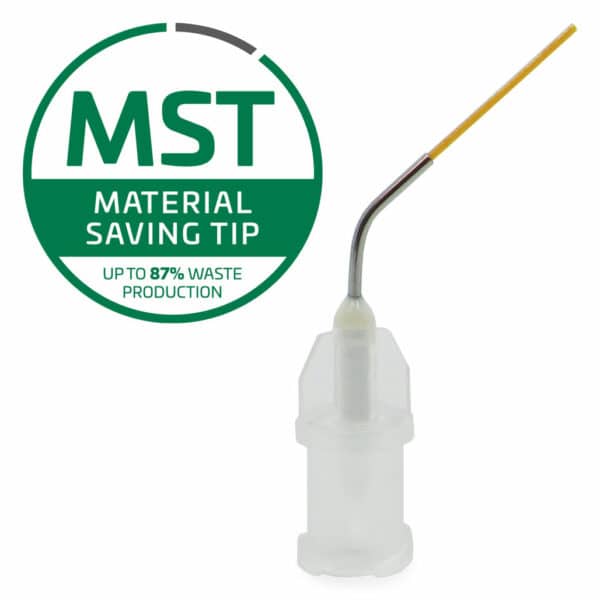 This minimal waste tip, featuring Material Saving Technology (MST), is ideal for costly materials.
Conventional application tips trap a significant amount of material inside, sometimes causing more material to be wasted in the tip than is used clinically.
Vista Apex developed this patent technology for minimal waste of your costly materials. The unique design minimizes the internal volume of the tip, greatly reducing waste, up to 87%! This means that materials go further, and you can use more of what you paid for!
Tips featuring MST are the ideal solution to get the best value from costly materials.
Because this technology allows amazing savings while expanding material life, you could save thousands of dollars annually.
MST Visco-Tip™ is a bendable, flexible 25ga tip that can be used as an endo sealer or delivery tip for other materials, and improves the flow and placement of viscous materials such as Bioceramic sealers and Calcium Hydroxide.
Details:
Bendable, 25ga delivery tip
Reduces waste of expensive materials
Improves flow for easy, predictable delivery
Eailsy trimmable to shorter lenghts
Rotatable and bendable shoulder for optimum positioning
Non-clogging design
Great for use with Vista-Cal
Compare to Ultradent®*: NaviTip®* Tips 
MST Visco-Tips™
$34.40 – $74.88
Clinical Images
Use more of what you paid for!

Conventional tips trap a significant amount of unusable material inside of the hub.
The structure of the MST Tip and the bendable, flexibility allows majority of the material to go through.