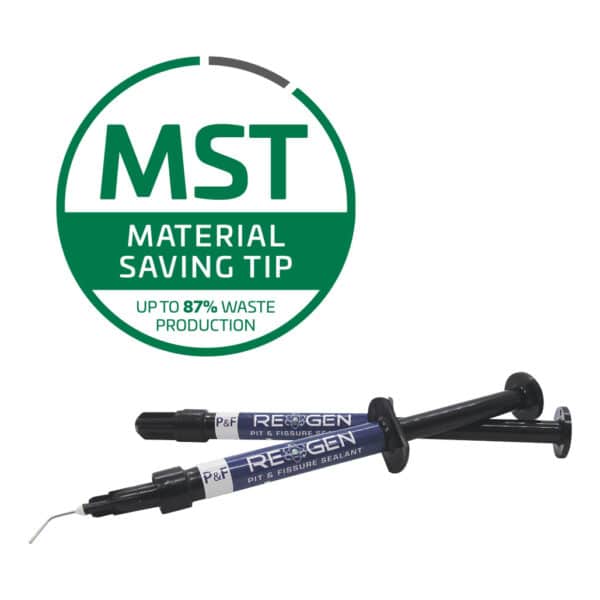 RE-GEN Pit and Fissure Sealant seals pit and fissure depressions and faults in the enamel in the biting surfaces of teeth.
Our heavily filled resin sealant provides the benefits of extended fluoride, calcium and phosphate release. It is used to prevent moisture contamination which can cause microleakage and poor retention.
RE-GEN™ Pit and Fissure Sealant is a hydrophilic, wet bond material that bonds remarkably well in a moist environment. Because of its bioactive properties, RE-GEN™ Pit & Fissure Sealant is able to help prevent demineralization and inhibit secondary decay at the margin, ensuring exceptional margin stability.
Releases biologically charged ions (phosphate, calcium, fluoride), which enhance enamel remineralization, increase enamel hardness and stimulate hydroxyapatite formation
Low solubility of 0.06%
Film thickness of 20-25 microns
BPA & Bis-GMA free
Break the cycle by using a bioactive product that helps protect against acidic attack.
Compare to:
3M™* – Clinpro™* Sealant
VOCO®* – Grandio®* Seal
Ivoclar®* – Helioseal™*
SDI®* – Conseal F™*
Shofu®* – BeautiSealant™*
Pulpdent®* – Embrace™* WetBond™*
Ultradent®* – UltraSeal XT™* 
RE-GEN™ Pit & Fissure Sealant
$79.57
• (4) 1.2mL syringes
• (18) MST Tips (Material Saving Technology)
Instructions for Use (IFU)