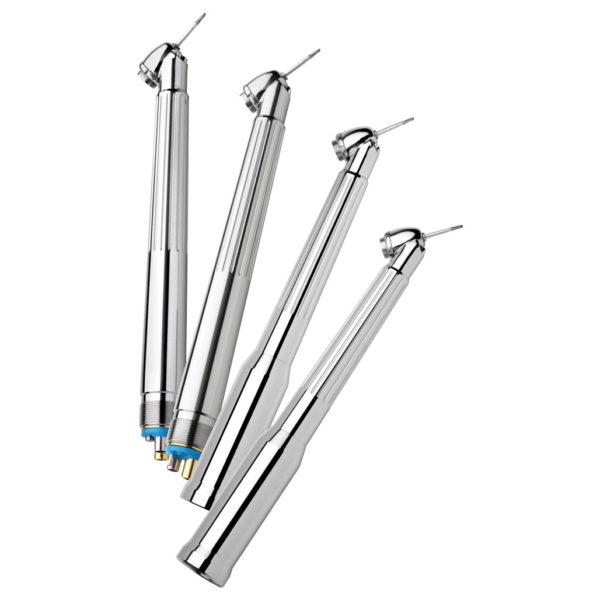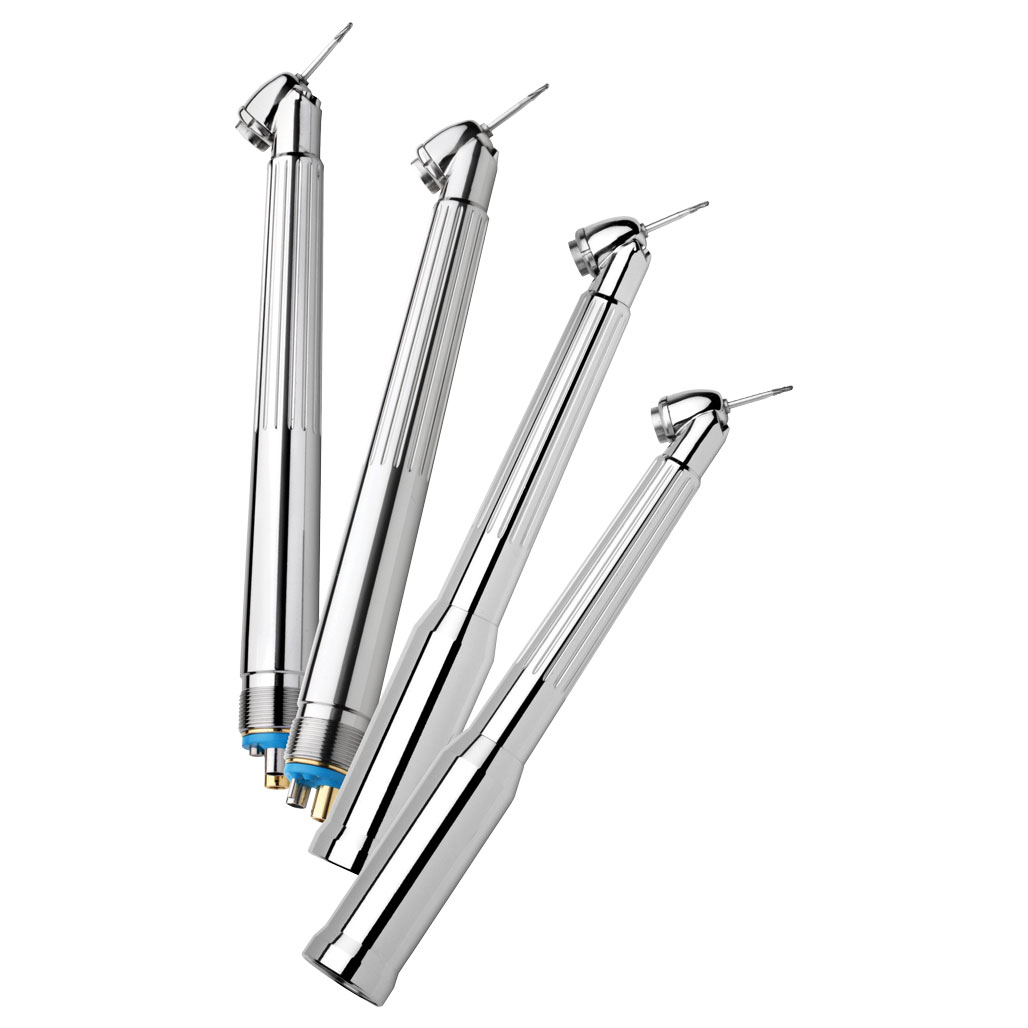 The IMPACT AIR 45® has a unique 45° angled head, allowing for maximum access and visibility. It is available with fiberoptics, is fully autoclavable, has an office-replaceable turbine (minimizing downtime) and uses standard friction grip burs (featuring a push-button bur release).
The IMPACT AIR 45® is also designed for use in periodontal and endodontic procedures, including Apicoectomy (root canal drainage), Osteoplasty (bony contouring), Odontoplasty and Root Resection.
A water or saline line inside the handpiece handle directs a pure water jet (not a mist) directly onto the cutting area. Air is exhausted through the back of the handpiece.
Fits A.D.A. Standard Coupling Types
I.S.O. Type B (4 hole or 5 hole fiberoptic)
Fits our 4 hole, 5 hole, or 6 pin coupler or an equivalent KaVo MULTIflex® style coupler
Compatible with friction grip shank burs (.0627″ – .0630″ diameter shank)
Supply Requirements: Dry filtered air or nitrogen
Operating Pressure: 32psi – 40psi
Speed: 400,000-500,000 rpm
Chuck type: Mid-spindle, tooth-jawed grip
* For all fiberoptic handpieces, the use of either a 5 Hole or 6 Pin connection is required. Any time a 6 pin connection is to be used with a fiberoptic handpiece, Ensure that a 6 pin universal adapter is being used (#625). For the 407 QD handpiece, a QD coupler is required. If a 5 hole connection is used, ensure that a 5 Hole coupler is used (#629). If the office has a 6 pin connection, either a #627 6 pin coupler or the combination of #625 6 pin adapter and #629 5 Hole coupler may be used.
Do not attempt to force a handpiece onto a connector that does not have the correct connection style.
View more information about the IMPACT AIR 45® »
IMPACT AIR 45® Highspeed Handpieces
$905.37 – $1,148.45
SPECIAL OFFER –
15% OFF All IMPACT AIR 45® Equipment & Accessories
with code equip23 at checkout! Now through December 31, 2023.
Click here to learn more »
Instructions for Use (IFU)
Testimonials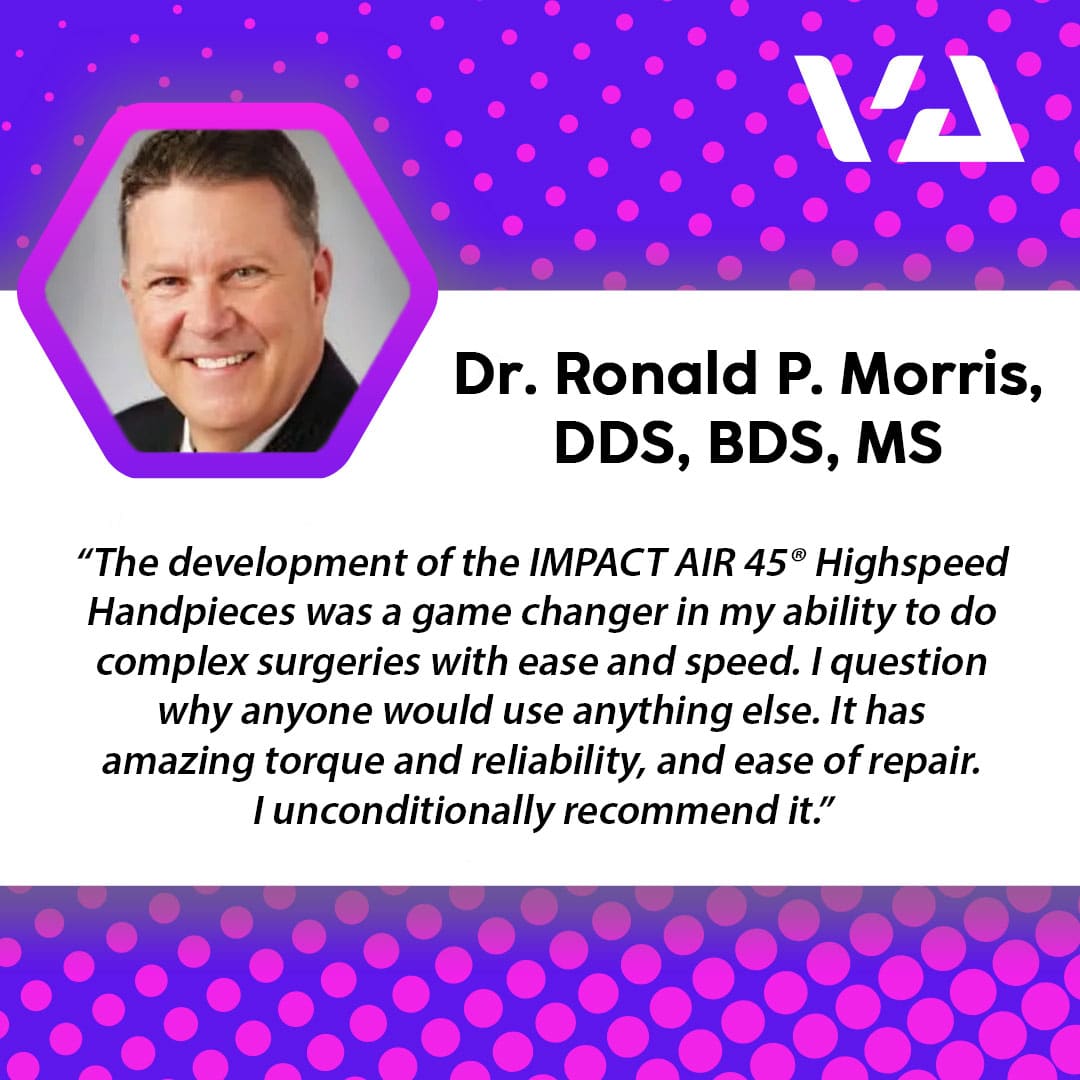 FAQs
No, Vista Apex is the only authorized repair facility for the IMPACT AIR 45®. Contact us at 877.418.4782 for all your handpiece servicing needs.
For standard handpieces (2 hole, 4 hole, and 5 hole fiberoptic), remove handpiece from hose coupling and insert 2 drops of lubricant into hole of the large silver "drive air" tube. For Quick Disconnect handpieces, inject 2 drops of lubricant in the "air drive hole" of the coupler and connect to Quick Disconnect handpiece.
IMPACT AIR 45® autoclavable lubricant is recommended. However, any synthetic-based lubricant is acceptable.
Two. One thick (.015), and one thin (.005). These Teflon® washers aid in preventing air from escaping into the surgical field.
32 to 40 psi is recommended for optimum performance.
Yes. However, it is not recommended. It will sterilize the handpiece, but the chemicals will shorten the life of the turbine.
No. When inserting a bur, slide the bur in as far as it will go (about halfway), then press the button firmly and slide the bur in the rest of the way. Press the bur against a hard, flat surface. This aids in setting chuck grip into the bur. Test the bur for security by attempting to pull it out with your fingers. If the bur slips without considerable force, the chuck should be replaced.
Yes. See illustration below.
Headcap wrenches are enclosed with new handpieces, replacement headcaps, and conversion kits. If you no longer have your headcap wrench, just contact us and we will send you a wrench free of charge.
A #1702 friction grip surgical bur.