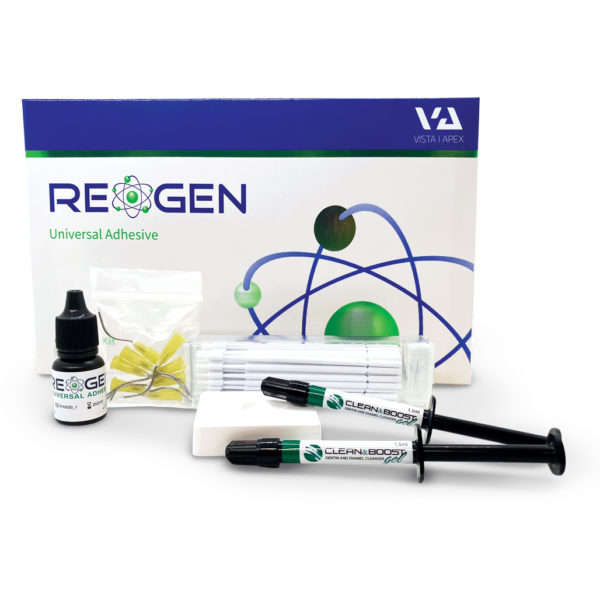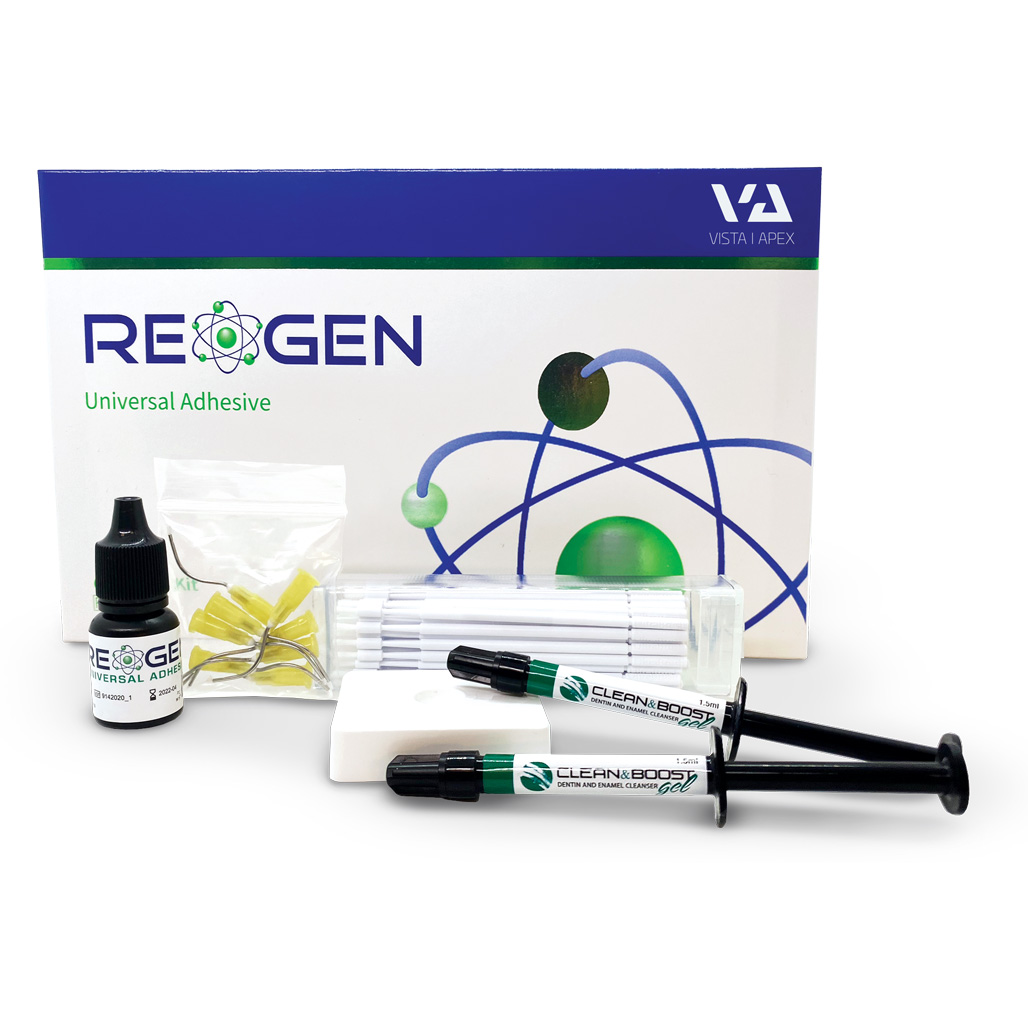 RE-GEN™ Universal Adhesive provides consistent results, exceptional bonding and virtual elimination of post-operative sensitivity in a single system.
RE-GEN™ is the first line of bioactive products to employ Bioglass as an active ingredient. Bioglass is backed by 50+ years of medical use, and is supported by scientific research and countless clinical studies. Studies have shown Bioglass to form a hydroxyapatite-like surface which promotes the regeneration of healthy tooth structure.
Bioglass is also osteoinductive, i.e., it is able to stimulate bone cells towards a path of regeneration and self-repair, thus significantly accelerating tissue healing kinetics*. In vivo studies have shown that bioactive glasses bond with bone more rapidly than other bioceramics, and in vitro studies indicate that their osteogenic properties are due to their dissolution products stimulating osteoprogenitor cells at the genetic level*. Crystallization of the bone-like matrix and maturation of the bone cells are what lead to new bone formation.
Additionally, Bioglass releases alkaline species, which significantly increase the environment's pH and provide broad antimicrobial effects*. These antimicrobial properties promote healing and prevention of caries.
Add Bioactivity to any of your trusted composites:
Targeted Bioactivity – Ionic release at the resin-dentin interface
Osteogenic – Stimulates regeneration of hydroxyapatite
Antimicrobial – Alkaline pH aids in the prevention of secondary caries
Biocompatible-  BPA-Free, patient friendly non-toxic compatibility
Use with RE-GEN™ Flowable Composite Liner for superior bioactive results
Compare to:
Parkell®* – Predicta®* Bioactive
Pulpdent®* – Activa™* BioACTIVE
Doxa®* – Ceramir®*
RE-GEN™ Universal Adhesive
$116.70 – $148.53
SPECIAL OFFER –
Celebrate our back-to-back Cellerant Award wins for RE-GEN™!
Get 20% OFF the entire RE-GEN™ family with code bestofclass23
at checkout. Extended through October 31, 2023!
Learn more »
Instructions for Use (IFU)
Safety Data Sheets (SDS)
SDS versions for the EU are available from your EU based distributor, or can be provided by Vista Apex upon request.
Testimonials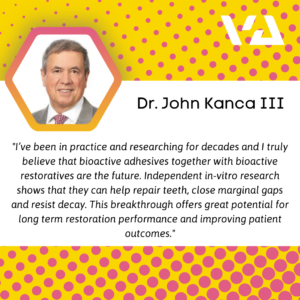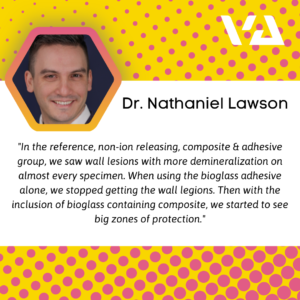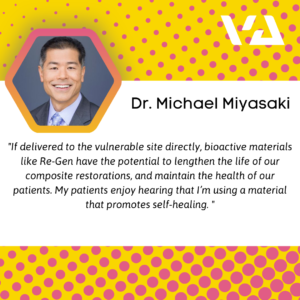 FAQ
RE-GEN™ is the first line of bioactive products to employ Bioglass 45S5 as an active ingredient. Backed by over 50 years of medical use, Bioglass is supported by countless clinical studies.  
Bioglass attracts and exchanges bioactive ions, such as calcium, phosphate, and fluoride with the oral environment. In doing so, it lays the foundation for stimulating the regrowth of bone material and promoting bio-constructive healing.  
A material that has a biological effect on surrounding tissues. A bioactive material releases minerals and ions that induce remineralization, improved health and longevity, and tissue regeneration. Bioactive materials were first used in dentistry in 1988 in the form of 45S5 Bioglass cones placed in fresh sockets after tooth extraction to maintain the height of the residual alveolar ridge.
Bioactive materials work in conjunction with the body to proactively promote healing, restore health, improve dental function, and deliver better outcomes. Bioactive materials can help reduce the risk of secondary decay by preventing the demineralization caused by every-day acid exposure. 
Yes, the bond strength for RE-GEN™ Universal on dentin is 35 MPa and on enamel is 33 MPa. The bond strength for RE-GEN™ Self-Etch on dentin is 55 MPa and on enamel is 52 MPa. 
RE-GEN™ incorporates bio-constructive materials that work in conjunction with the healing ability of the human body to help revitalize teeth and periodontal structures to extend the life of your restorations. Additionally, RE-GEN™ has the ability to resist chemical demineralization, caused by dietary acid consumed through food or drink, and microbial attack from bacteria present in the mouth. This is important because demineralization increases the risk of erosion, making the tooth more prone to secondary caries.