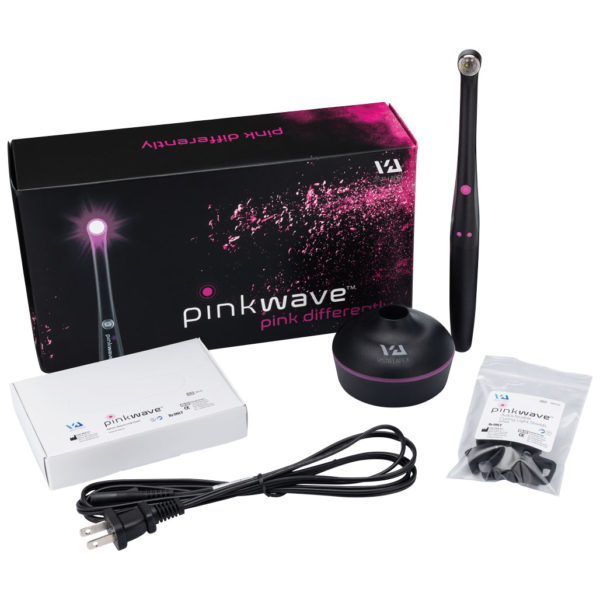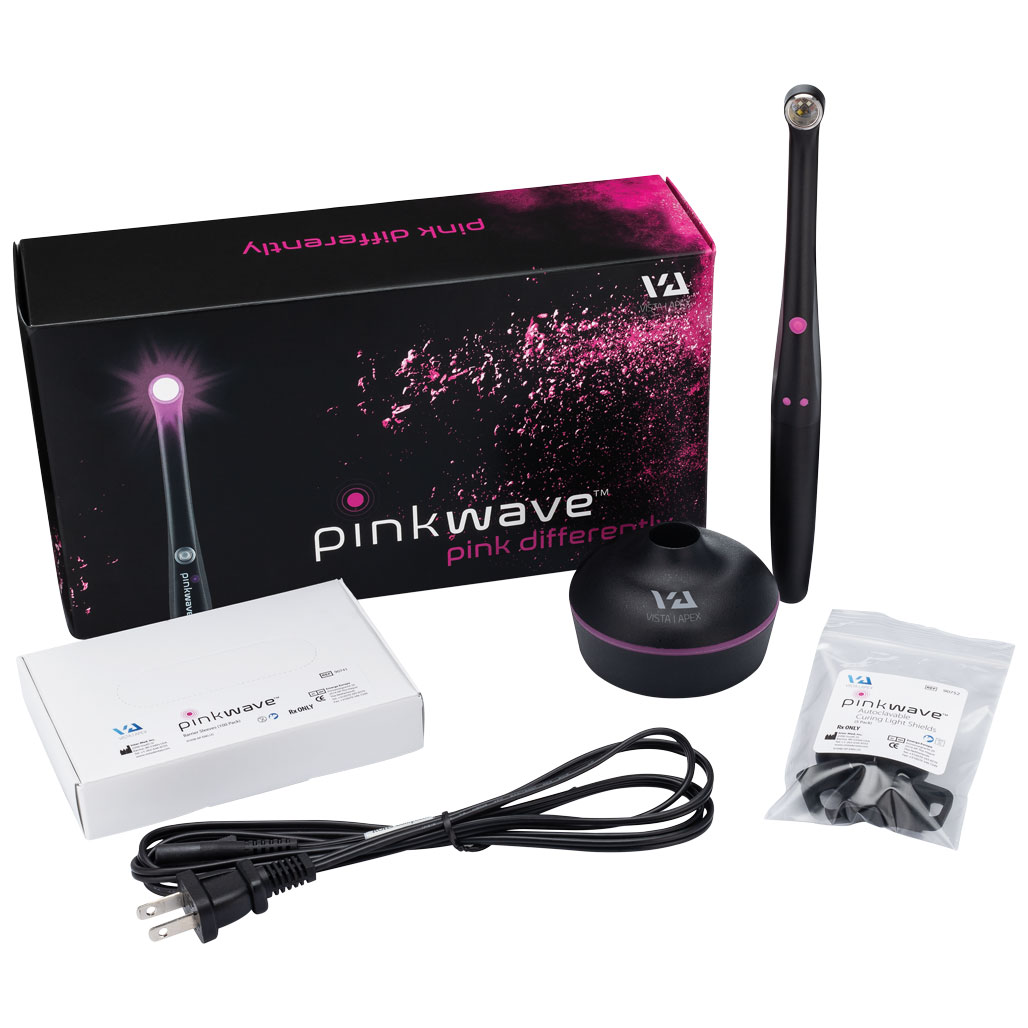 PinkWave™ QuadWave™ Curing Light
$10.00 – $1,399.00
Instructions for Use (IFU)
Frequently Asked Questions
A combination of four different wavelengths, ranging from 375 – 900 nm, that provide a broad spectrum enabling you to cure any composite on the market.  The wavelengths are:  
Blue – CQ initiator

 

Near Infrared – enhances 

polymerization

 

Red – enhanced polymerization

 

UV – UV-photo initiators

 
Decreased composite shrinkage and more effective polymerization.
Standard mode is a 20 second cycle and has a power output of 1515 mW/cm

2

Boost mode is a 3 second cycle and has a power output of 1720 mW/cm

2

Ramp mode is a 20 second cycle and has a power output of 1515 mW/cm

2. Unlike Standard mode, Ramp mode ramps up the power from 0-100% over the first 5 seconds, and then remains at 100% for the remaining 15 seconds. Ramp Mode increases optical power from 5 – 100% (~75 mW/cm2 – 1515 mW/cm2 ) in the first 5 seconds and remains at 100% (1515 mW/cm2 ) for the remainder of the cycle. There is some evidence to support the use of Ramp Modes in Light curing to achieve optimal composite resin properties.
Three pairs or these glasses are included with each PinkWave™ purchase.
We recommend the Filter 3.0 Dark Green Safety Glasses that are ASNI Z87+ certified. Testing has shown that these lenses attenuate 95% of the light generated by the PinkWave™ Curing light on its highest setting. 
These glasses are darker than the safety glasses that are commonly used with traditional blue light curing lights. For more information on the glasses please visit: https://www.mcrsafety.com/safety-equipment/glasses/st1130.  
The PinkWave™ Curing Light can cure up to 8.6mm. The average depth of cure is 7.0mm.
Clean the PinkWave™ Curing Light, Protective Eyewear and Light Shields with an approved surface disinfectant solution such as a quaternary ammonium compound product that contains 20% alcohol or less.
Note: The Light Shields can also be autoclaved. If you choose to autoclave The Light Shields, they should be autoclaved at 132˚C for 4 minutes. 
PinkWave™ is covered under warranty for 3 years. 
Yes, the battery can be recharged by placing the curing light in the charging base.