Shining a New Light on Curing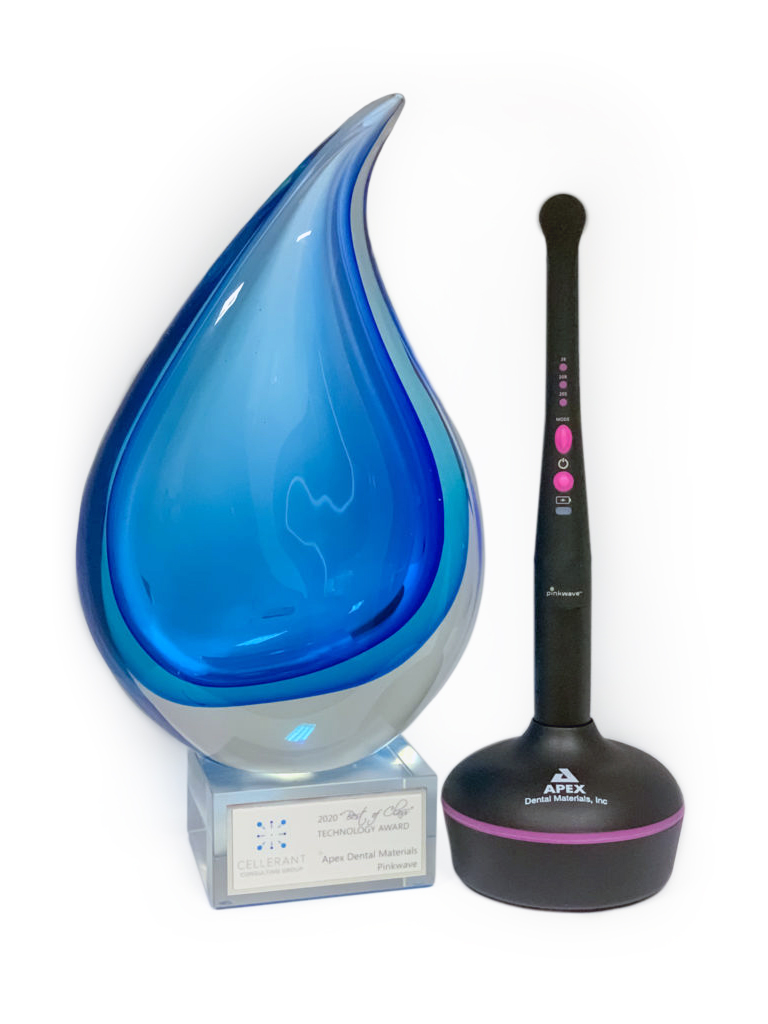 On August 31st of 2020, Vista Apex was awarded its second Cellerant Award in Best of Class Technology, this time for the PinkWave™ curing light. The Cellerant Best of Class Technology Awards were created in 2009 by Dr. Shuman to acknowledge innovative products and be the most prestigious and coveted award that dental manufacturers may receive.
Dr. Chris Salierno reviewed PinkWave™, saying, "Standout product! Emits a characteristic pink light, the light itself had a cool, slick, ergonomic feel and looked to it. But it also performs well and does something different. The pink is due to patented QuadWave technology. As the name implies, it's four different wavelengths that are being emitted by this light. What that means for the clinician is they see a more optimally performing light; when curing composites (they) will experience decreased post-operative sensitivity, decreased shrinkage, better polymerization, overall a very well-performing light, and it just looks great too!"
The QuadWave™ technology employs four different wavelengths: UV, Blue, Red, and Near-infrared (NIR), making PinkWave™ the first of its kind decreasing composite shrinkage by 37% and increasing hardness by 23%.
While this award is not a first for Vista Apex, it is a glimpse of what to expect in the future as this newly amalgamated powerhouse of Vista Dental and Apex Dental Materials moves forward in the industry, gaining recognition. "I hope that this shows that this is what we are about here at Vista Apex; innovation and providing better patient outcomes at affordable prices," said John Baeten, Director of Research and Development.
"To be designated Best of Class is a sign that a product has revolutionized, simplified, or distinctively advanced its category. The manufacturers represented here are driving the conversation for how dental practices will operate in the future. The foundation of our success in bringing attention to these products has always been consistent: we recognize technology leadership in dentistry without bias or profit." states the Cellerant Consulting group.
Senior Manager of Marketing Operations, Nick Pond, commented, "Innovation has always been a large part of our identity, and this paradigm shift in composite curing proves that. Here at Vista Apex, we are consistently looking to provide products that improve the standard of care. You can continue to expect the same innovation that you always have, but now with a little more flair, as we bring Vista Apex culture forward and continue to partner with key opinion leaders."
From all of us at Vista Apex, we are so excited and grateful to have received this award and look forward to the future and changing the world of dentistry.