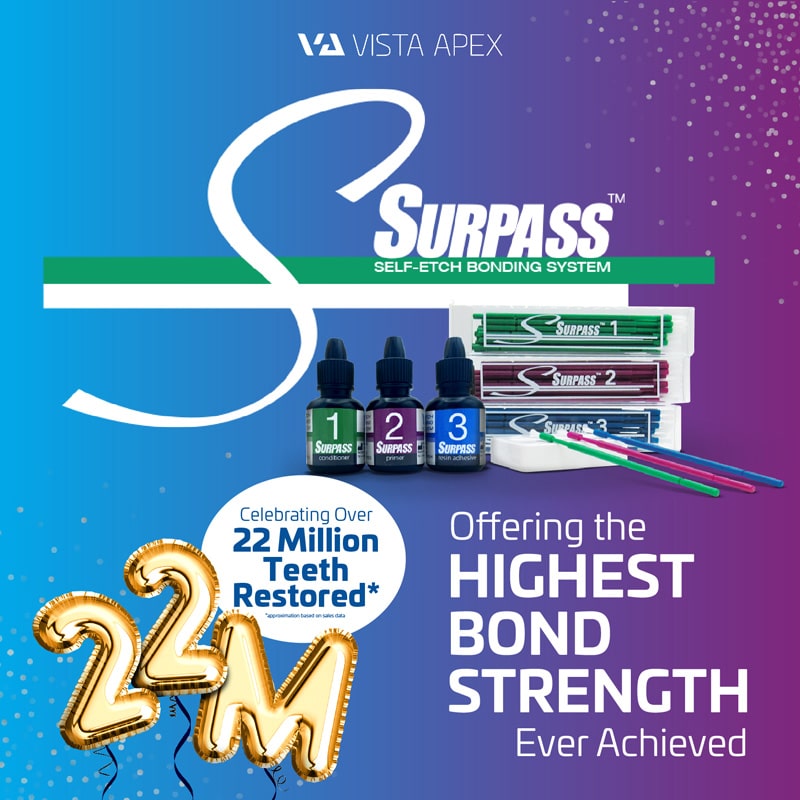 Surpass® Self-Etch Adhesive System
If You Care About Strong Bond Strengths, You Have To Try Surpass ®!
Surpass® is a universal adhesive system that when properly employed, can be used to seal enamel/dentin prior to restoring with light-cured or self-cured composite materials. Also, in situations of indirect restorations, the bonding system can be used to seal a preparation when using a light-cured, self-cured or dual-cured composite cement or glass ionomer or resin-modified glass ionomer cement. In addition, the system allows the dentist to bond a post and core, along with treating hypersensitive and/or exposed root surfaces.
Try It, You Won't Be Disappointed!
Independently, each Surpass® Bottle optimizes an attribute critical to clinical success: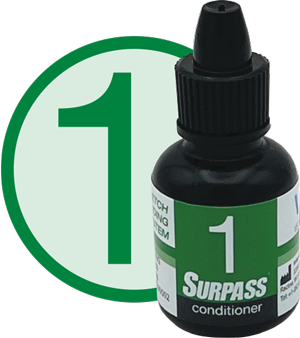 Bottle 1:
Conditioner
The conditioner etches enamel as well as phosphoric acid while eliminating post operative sensitivity.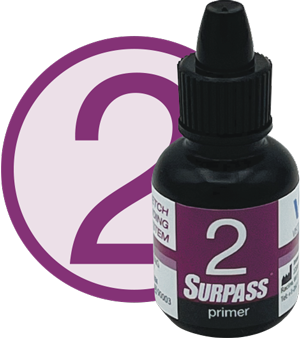 Bottle 2:
Primer
The primer completely wets and penetrates the tooth structure to maximize bond strengths and completely seal the surface.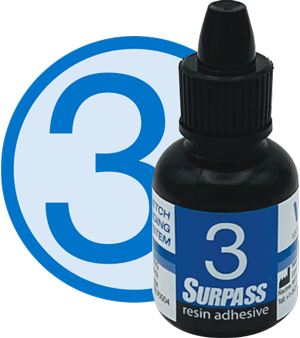 Bottle 3:
Resin Adhesive
The bonding resin links the primed surface to all self-cure, dual-cure or light-cure restorative materials.
When used as a system, Surpass® is the Gold Standard in dental adhesion!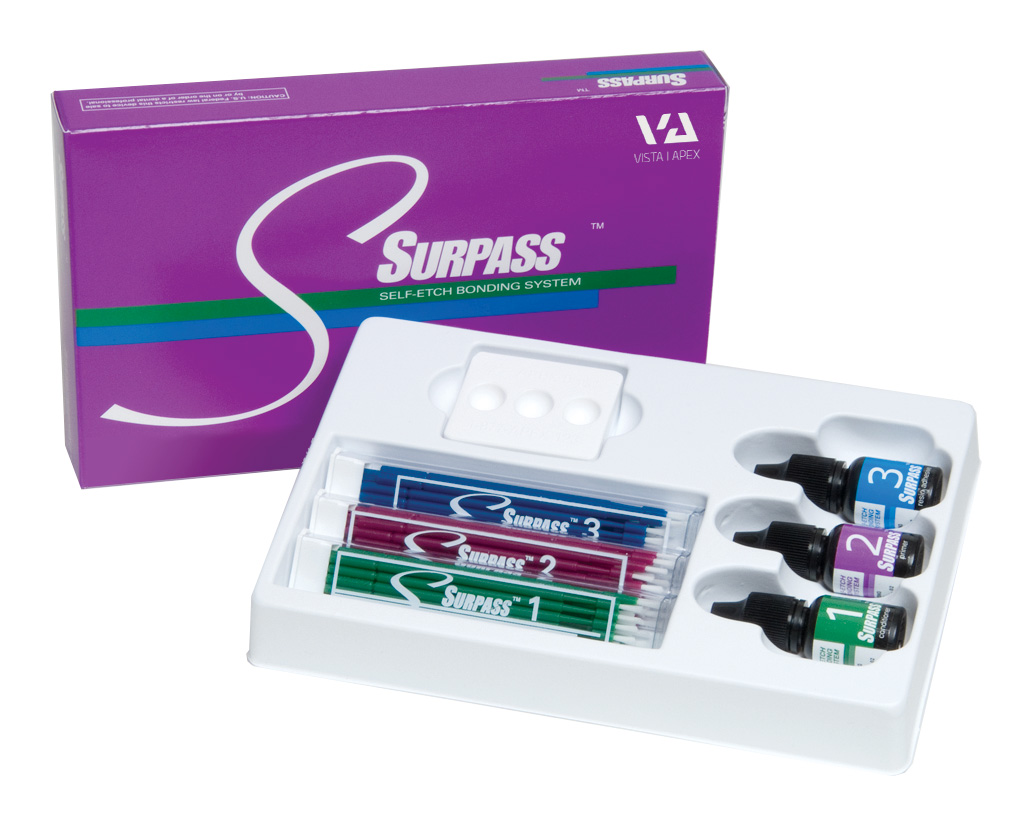 Combining proven self etching technologies with a new primer/ bonding resin approach, Surpass® offers the highest shear bond strengths while eliminating sensitivity in one simple technique.
Surpass® has only one technique for all procedures
There are no catalysts needed for any procedures
Surpass® offers the highest bond strengths ever achieved
The Surpass® Starter Kit comes with:
(1) 6mL bottle of Surpass® 1
(1) 6mL bottle of Surpass® 2
(1) 6mL bottle of Surpass® 3
(3) boxes of 25 color coded applicator sticks
(1) Well, instructions and SDS
See What All the Buzz Is About!
New Age In
Adhesive Dentistry
"Wonderful product, great clinical results, easy to use and really fast. Zero postoperative sensitivity. Although, some clinicians have problems with following to protocol."
Konstantin Kostura
Great stuff!!
"This product is fantastic!! Easy to use, NO post op sensitivity. Incredible strength. I would encourage everyone to try it and use it."
Daniel Tavelinsky
DMD, FAGD
Simply Superb!
"I have used Surpass since it was introduced and have gotten nothing but great success with this product. It is easy to use and works better than any other system I have used over the years. Sensitivity is a thing of the past and I use the entire spectrum of Vista Apex products. Margins are wonderful and restorations look great years later. I would highly recommend this product."
Nathan Shpritz, DDS
Very Good Material!
"Use it every day. I especially like the non rinse aspect of the protocol. No sensitivity with great results."
Mark J. Fleming, DDS
The Best!
"I have used Surpass since it's inception and could not be more pleased with this product. Very easy to use and performs wonderfully. Zero sensitivity in my hands. However, this has been true of all the Apex products we use."
Richard M. Klein, DDS
Makes Bonding Idiot-Proof
"Strong, easy to apply, no post-op sensitivity, and the best customer service in the business. What's not to love?"
Andres Gamboa