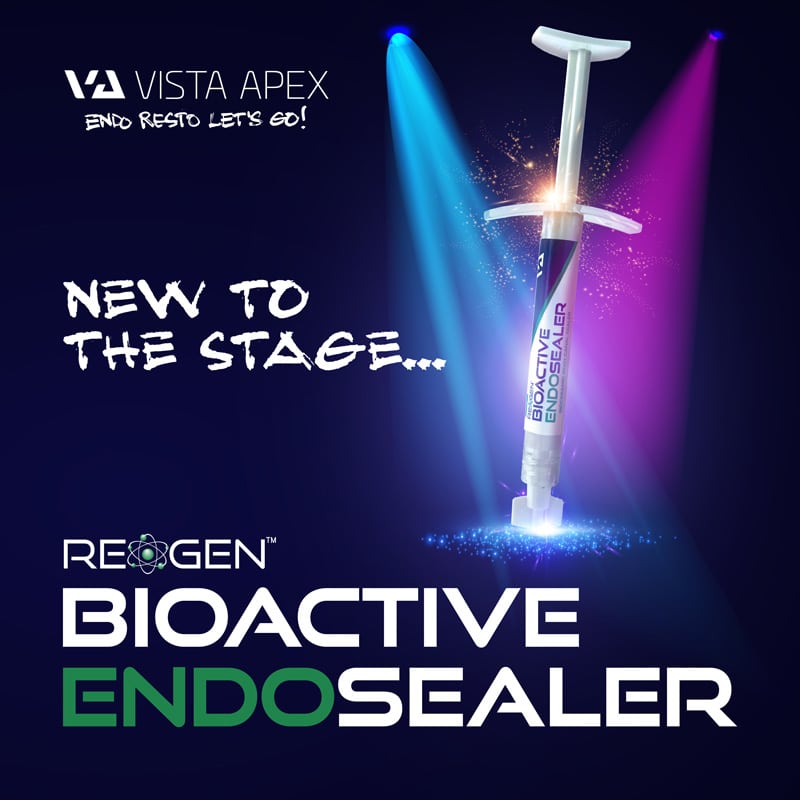 Our New
Endodontic Sealer!
RE-GEN™ Bioactive Endo Sealer is a hydraulic, ready-to-use injectable bioactive paste that utilizes moisture naturally present in dentinal tubules to initiate a setting reaction. Endodontic sealers are used in the obturation of root canal systems to achieve a fluidtight seal throughout the canal including the apical foramen, canal irregularities, and minor discrepancies between the dentinal wall of the root canal and the core filling material.
Employs Bioglass to promote bio-regenerative healing while attracting and exchanging ions that promote remineralization of hydroxyapatite
Ready to use: Injectable, single-component, bioactive paste with smooth flow handling
Biocompatible and Osteogenic: Bioactive root repair material that is effective on non-vital cases
Anti-bacterial: Creates a high alkaline environment to prevent bacteria formation
Dimensionally stable: Low solubility with high wash out resistance
A faster set: Fast and efficient set time of under 1 hour
Highly Radiopaque
Cost Effective + Paired with material savings MST tip




Don't miss your chance at
our Introductory Price of

An Extraordinary Sealer At An Extraordinary Price – Don't Miss It!
Frequently Asked Questions
RE-GEN™ Bioactive EndoSealer Kit Contents
Using RE-GEN™ Bioactive Endosealer
Root Canal Sealer Comparison
Caring for RE-GEN™ Bioactive EndoSealer
Have a question to add? Contact us M-F, 7am-5pm CST at (877) 418-4782,
ask us on chat, or submit your question to info@vista-dental.com.
Introducing RE-GEN™ Bioactive EndoSealer