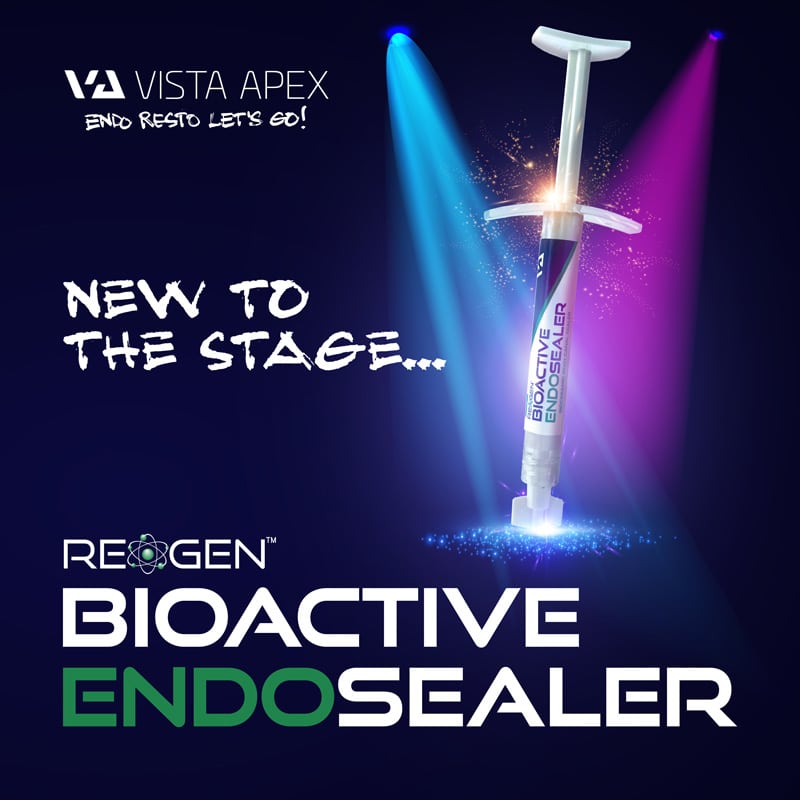 Our New
Endodontic Sealer!
RE-GEN™ Bioactive Endo Sealer is a hydraulic, ready-to-use injectable bioactive paste that utilizes moisture naturally present in dentinal tubules to initiate a setting reaction. Endodontic sealers are used in the obturation of root canal systems to achieve a fluidtight seal throughout the canal including the apical foramen, canal irregularities, and minor discrepancies between the dentinal wall of the root canal and the core filling material.
Employs Bioglass to promote bio-regenerative healing while attracting and exchanging ions that promote remineralization of hydroxyapatite and reduces inflammation
Ready to use: Injectable, single-component, bioactive paste with smooth flow handling
Biocompatible and Osteogenic: Bioactive root repair material that is effective on non-vital cases
Anti-bacterial: Creates a high alkaline environment to prevent bacteria formation
Dimensionally stable: Low solubility with high wash out resistance
A faster set: Fast and efficient set time of under 1 hour
Highly Radiopaque
Cost Effective + Paired with material savings MST tip




Don't miss your chance at
our Introductory Price of

An Extraordinary Sealer At An Extraordinary Price – Don't Miss It!
Frequently Asked Questions
Calcium aluminate based cement, Bioglass and Zirconium oxide as radiopacifier
Compared to other sealers on the market that typically utilize calcium silicate (Portland cement), calcium aluminate has significant advantages including increased strength, increased acid resistance, and quicker setting, all important attributes for an endodontic sealer.
Calcium aluminate is significantly more expensive than calcium silicate (Portland cement), but the added benefits are totally worth the extra cost to Vista Apex to provide a high quality endodontic sealer!
RE-GEN™ Bioactive EndoSealer contains bioglass that promotes remineralization of hydroxyapatite through calcium (Ca) and phosphate (PO4) ion release. Through the release of these ions, remineralization of dentin within the root canal occurs thereby strengthening the dentin and promoting longevity of the treated tooth.
RE-GEN™ Bioactive Endosealer is a hydraulic cement which means it uses moisture naturally present in the tooth to initiate and complete its setting reaction.
Hydroxide (OH) is released as part of the cement setting process which gives the sealer an alkaline pH (~12).
Yes, it is non-staining because it contains zirconium oxide as the radiopacifier which does not cause staining.
RE-GEN™ Bioactive EndoSealer Kit Contents
(1) 2 g RE-GEN™ Bioactive Endosealer sealant in our ergonomically shaped syringe for easy extrusion.
Each sealer kit comes with 20 of Vista Apex's patented MST Visco-Tips™. These tips have been engineered to reduce waste (87% compared to other sealer tips) making each syringe of RE-GEN™ Bioactive EndoSealer go further and putting money back in your pocket.
Using RE-GEN™ Bioactive Endosealer
Material will set in ≤ 1 hour (however, set time is dependent on the level of moisture present in the tooth).
Greater than 4 hours. Setting will begin in the presence of moisture.
No, it is not necessary. Any excess irrigants or moisture from surrounding tissues should be removed with absorbent points but moisture is used to set the sealer.
RE-GEN™ Bioactive Endosealer is compatible with all gutta percha, although reference to the gutta percha's instructions for use should always be referenced to make sure there aren't any constraints.
Our material is biocompatible and was subjected to significant biocompatibility testing to ISO 10993 standards as part of the FDA's 510(k) clearance of the product. Any incidental apical extrusion will not result in a significant inflammatory response although apical extrusion should be minimized as much as possible just like all other endodontic materials and sealers.
Yes, teeth treated with RE-GEN™ Bioactive Endosealer can be retreated following conventional techniques.
Root Canal Sealer Comparison
RE-GEN™ Bioactive Endosealer incorporates Vista Apex's RE-GEN™ technology that leverages over 50 years of medical and orthopedic clinical use for remineralization of hydroxyapatite materials (e.g. bone and teeth). The formulation has been specifically engineered to incorporate all the clinical advantages desired in an endodontic sealer including bioactivity, high radiopacity and alkalinity, quick set time, high flowability, and low solubility.
The desiccant pack is to absorb any moisture trapped inside the foil pouch. Since the sealer uses moisture to set, any excess moisture in the foil pouch may prematurely set the material in the syringe prior to use. Once the syringe is empty, all product components can be disposed in accordance with regional waste requirements.
Caring for RE-GEN™ Bioactive EndoSealer
Two (2) years from the manufacturer date.
Place sealer back into the resealable foil pouch and keep the provided desiccant pack in the foil pouch. Place the foil pouch in a dry and temperature-controlled environment in accordance with the packaging.
Have a question to add? Contact us M-F, 7am-5pm CST at (877) 418-4782,
ask us on chat, or submit your question to info@vista-dental.com.
Introducing RE-GEN™ Bioactive EndoSealer