A Lost Revenue Source: Root Canal Therapies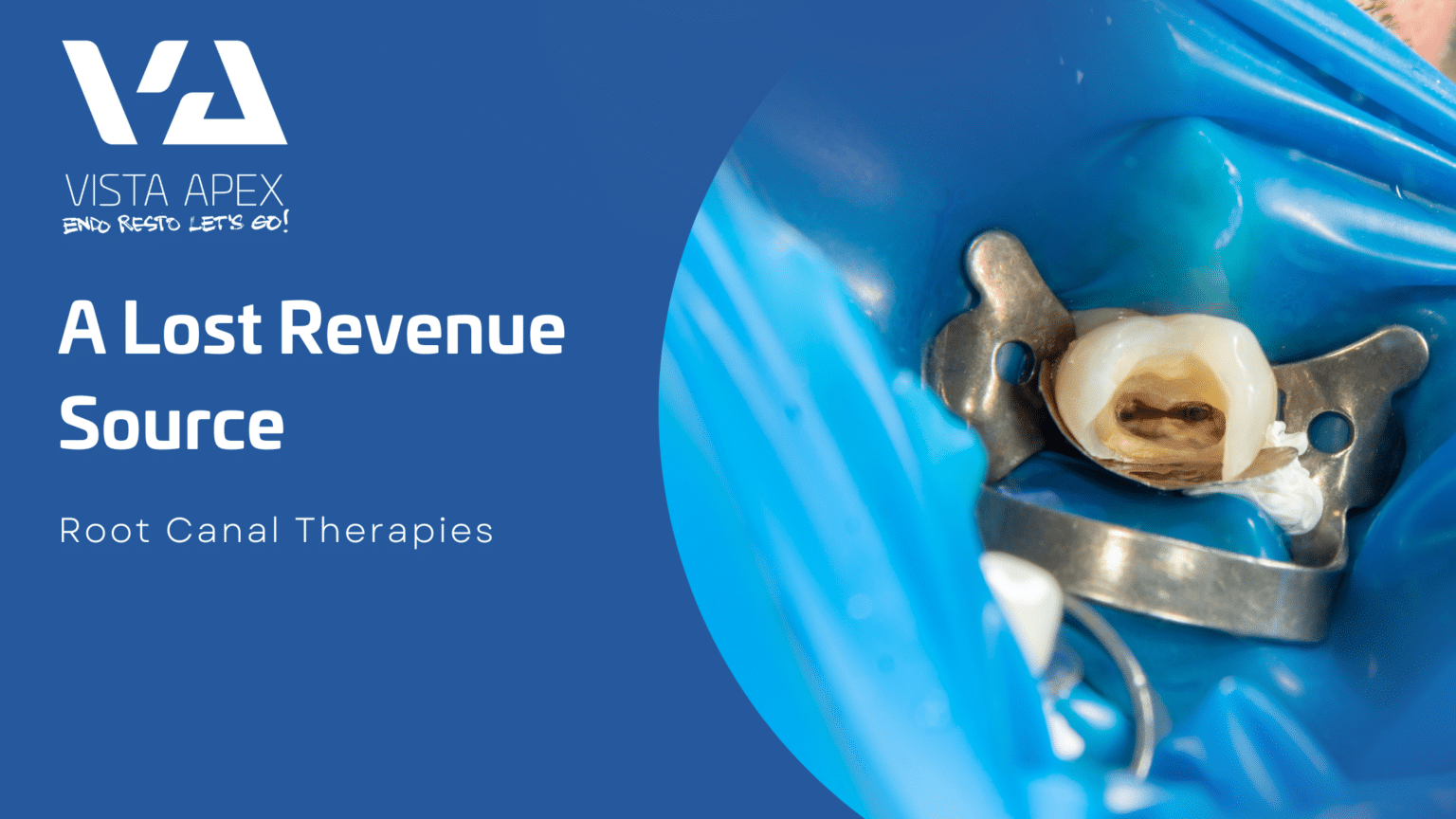 Written by Dr. Mike Miyasaki, Chief Dental Officer
A lost revenue source in many general practices is doing root canals. Why don't more GP's enjoy root canals? Because some fail to heal. And why do they fail to heal? Residual pulp material in the canals is a very common reason. Metal files leave much of the root canal system untouched. The solution is literally solutions. Typically, clinicians use a combination of sodium hypochlorite, EDTA, and, maybe, Chlorhexidine. The irrigants have many purposes, such as, lubricating the canals, suspending debris, dissolving the tissue, disinfecting the canal, removing the smear layer allowing for better sealing of the canals.
The effectiveness of irrigating with these solutions is enhanced by activating them. Adding activation of the irrigation solutions to get into the nooks and crannies of the tooth is a practice that is proven, and makes sense. Activation stirs the pot, so to speak, pushing the irrigants laterally, shaking the solution to create much cleaner canals resulting in more successful endodontic procedures. Would you feel you were going get your clothes their cleanest by putting your laundry in still, soapy water. Wouldn't you feel better if the water was agitated, mixing the solution into the fibers of the material. That is what Vista Apex's cordless EndoUltra® Ultrasonic Activator research shows. It does better than any other activator to enhance the antibacterial action of the irrigants and remove more debris.
Operating at frequencies up to 40,000 Hz it is 200 times more powerful than sonic devices. It allows for more effective irrigation with ultrasonic energy that moves the solutions into those areas the files miss with its acoustic streaming and cavitation to enhance the cleaning and remove the vapor lock at the apex that can prevent adequate irrigant action where it counts most. Using anything else is like using your grandmother's laundry washboard (I remember washing with her) to get your clothes clean. The EndoUltra® Activator saves clinician time and increases the success of our endodontic treatment.
To sum up, root canals represent an often underutilized source of revenue for many general practices. Vista Apex Dental Materials leads the way in endodontic dentistry innovations, offering products designed to simplify clinical procedures, enhance efficiency, and boost profitability. Our competitively priced products empower you to deliver superior results in less time. Keep in mind that the key to success lies in using our cutting-edge solutions, and don't forget to activate them with the EndoUltra® Activator. This time-saving tool not only streamlines the clinician's workflow but also elevates the overall success rate of our endodontic treatments.
---
Want to Learn More?
Download the eBook! Fewer Steps, More Confidence: An Irrigation Case Study!
Watch Behind the Scene footage of How It's Solved-Featuring the EndoUltra® Cordless Ultrasonic Activator https://vistaapex.com/how-its-solved/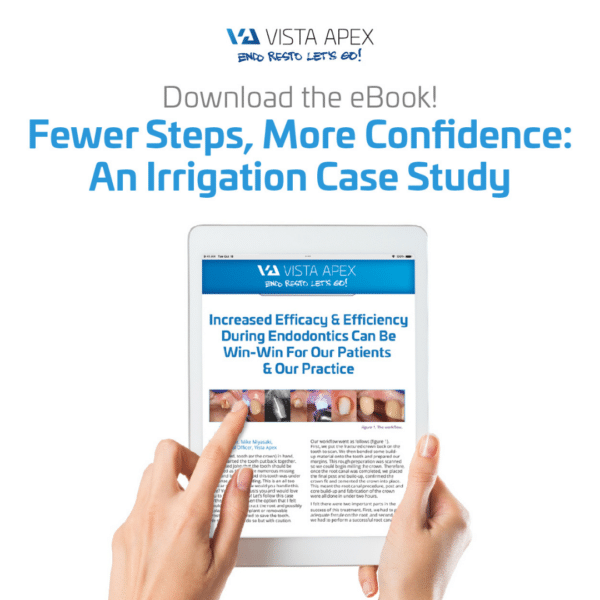 ---
About the author
Dr. Michael A. Miyasaki is a 1987 graduate of the University of the Southern California School of Dentistry, and has always maintained a practice focusing on comprehensive, minimally-invasive aesthetic restorative dentistry and function. With over 2 decades of clinical and teaching experience, Dr. Miyasaki has established himself as a leading figure in the world of dentistry and continues to educate his peers and patients for the optimal patient experience. His numerous accolades are a testament of his dedication and Sacramento Magazine just announced Miyasaki Dental as a "Top Dentist" and "The Face of Lifetime Dental Health."
---
---