Stop Wasting Your Time, Staying Smooth With Less Work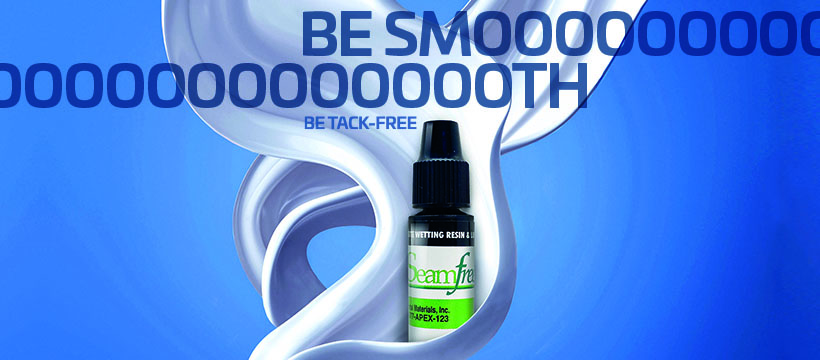 Most of the time, after we place a composite, we have to go back to shape and polish the restorations, be they Class I-VI. Our manipulation of our composites to their final contours are often limited by their tackiness, so we over-contour and polish them back, and that takes time. We get everything close, and once cured, go back and make it look and feel good. Well, now there is a solution called Seamfree. Like an iPad decades ago, I really didn't miss it until I tried it, and now my team knows to have Seamfree ready every time we use a composite type material.
Here I'll discuss a few simple options for improving composite placement.
Many instruments have incorporated special non-stick coatings to reduce the sticking of the composite material to the instrument. I really like Dr. Ronald Jordan's Composite Instrument Series from Clinician's Choice with their Titanium Nitride non-stick surface.
Another technique that I have encountered is placing a little adhesive on the instrument before manipulating the composite. This technique certainly improves handling, but it comes with some significant disadvantages. Many adhesives today contain volatile solvents and water, which are typically evaporated through the air-thinning process. When you place the adhesive on your instrument, then into the composite, the various solvents can interfere with the polymerization, weakening the restoration. Some can even impact the final shade of the material.
Composite Wetting Resins are a great alternative to the previously mentioned technique. There are several of these materials available, all of them allowing you to create better contours without the instrument drag before curing. However, it is important to consider their possible solvent and filler content.
In my practice, I choose Seamfree. I love Seamfree because it co-polymerizes with the composite and never on its own, so there is no layer or 'seam' of polymerized resin beneath the composite layers.
I've broken down the various wetting resins that I have used in the chart below:
| | | | |
| --- | --- | --- | --- |
| ​ | Seamfree | Ultradent®* Composite Wetting Resin | Bisco®* Modeling Resin​ |
| Filler Content​ | Unfilled | 45% filled | 30% filled ​ |
| Contains Solvent | NO | NO | NO |
| Indications for use: | Direct / Indirect | Direct / Indirect | Direct / Indirect |
| Compatible with all methylmethacrylate materials | YES | YES | YES |
| Adds film thickness or seams to the final restoration | NO | YES | YES |
| Method of Application​ | Syringe with Brush Tip, or Bottle with Micro applicator brush | Syringe with Brush Tip | Syringe with Tip |
Placing composite without a wetting resin can feel like spreading cold butter on bread. Apply a layer of Seamfree to your instrument, and it will feel more like spreading warm butter on toast! Your composite will spread more effortlessly, but since Seamfree does not contain solvents or initiators, the physical properties of your composite will not be altered. Like the butter, it is absorbed, so there will be no added thickness. Using Seamfree significantly reduces the amount of time that I spend shaping and polishing so I am quicker without any compromise. And Seamfree is useful for both direct or indirect restorations. I would encourage you to try Seamfree and let me know what you think.
Stay Smooth,

– Dr. Michael Miyasaki