5 Ways to Help Stop The Spread Of Covid-19 In Your Dental Office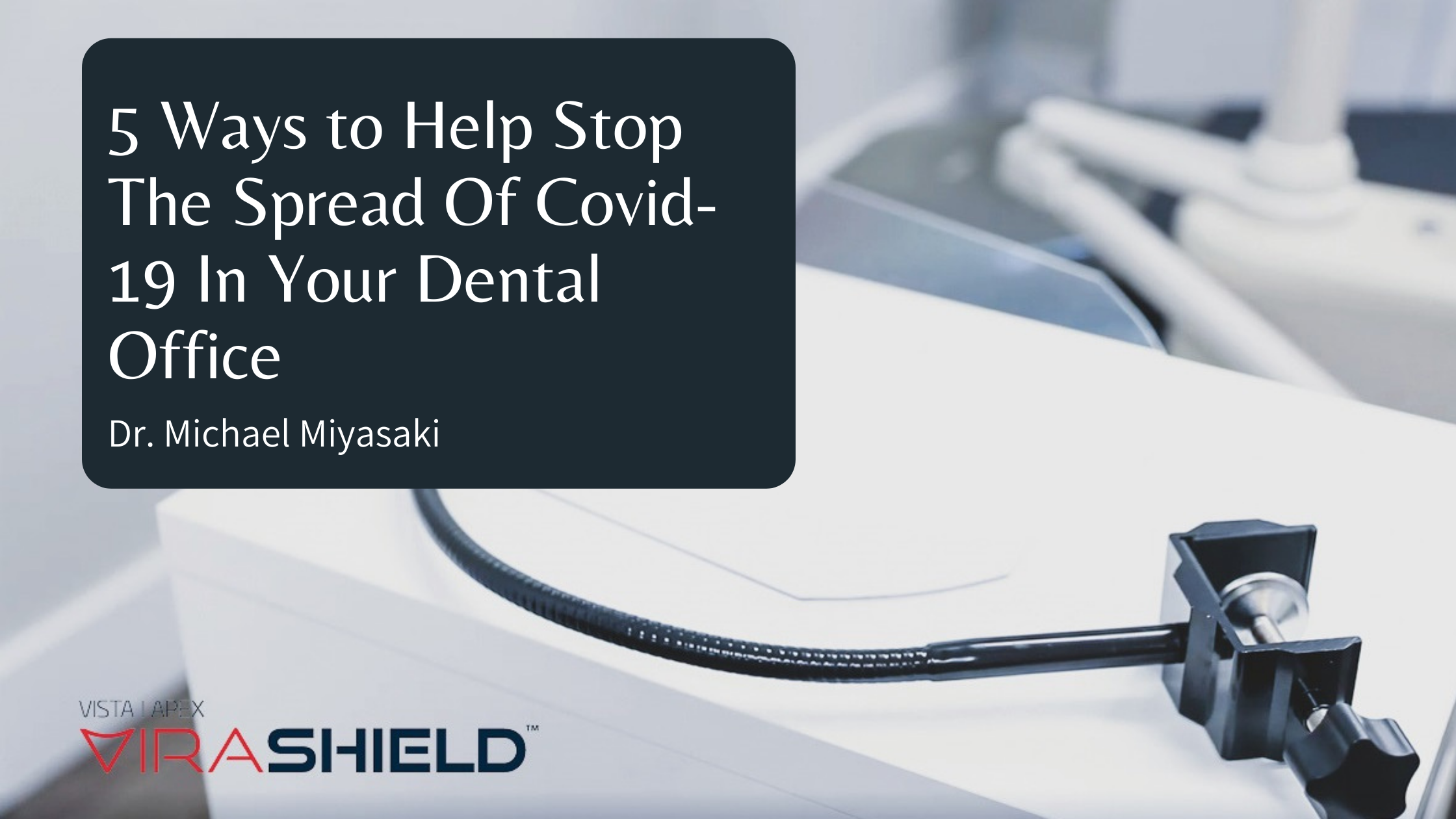 By: Dr. Michael Miyasaki
After being shut down for months due to Covid-19, it is an exciting time to be reopening, reconnecting with patients, and providing them with the dental care they need. Unfortunately, business is far from usual, and COVID-19 cases are rising once again as businesses reopen, schools go back into session, and frankly, many of us are just trying to resume everyday life. While dental practices have followed the Centers for Disease Control and Prevention protocols for decades, there are always new and more innovative ways to keep cross-contamination away.

Vista Apex wants to keep dentistry out of the picture as a vector for COVID-19, and below shares five ways you can help protect your team and patients.
Block Aerosol Sprays

The biggest challenge we have in our dental practices in preventing the transmission of COVID-19 by aerosols created when we spray water in our patients' mouth, use a mechanic scaler or our handpieces. Because many of us also wear loupes and associated lights, it is hard to wear face shields, and they can be uncomfortable. Another easy way to block these sprays is through the use of guards. Patients are familiar with these and their effectiveness from salad bar sneeze shields, and the barriers they now see in their grocery stores. Dentistry is applying that same concept; plexiglass shields are now available that are efficient and easy to use, giving you and patients the safety you need. If you don't have them in your offices already, check out ViraShield™!

Continuously Disinfect

While this might be self-explanatory, some additional ways to disinfect aside from
the traditional wiping down. Enter Hypochlorous Acid. This natural antibacterial agent can
be used in foggers or vapor humidifiers to kill suspended virus particles in the air or be used
to wipe down common areas in addition to your standard cleaners. Patients appreciate seeing door handles and other surfaces wiped down during their visit.

Pretreatment Rinse

In trying to limit the effects of the inevitable production of
aerosols in the dental practice, the ADA has recommended the
use of pre- and post-oral mouth rinsing for one-two minutes.
According to surveyed dentist customers, 55% are having
their patients use diluted hydrogen peroxide, while another
21% are using a flavored form of the peroxide rinse. While
much more appealing, some of these flavored rinses on the
market can foam excessively and leave an unpleasant after
taste. Vista/Apex found a solution to these problems in the
soon-to-be-released PeroxiBright™ Oral Rinse.




Improve the Seal of Your Mask

To further prevent the inhalation of virus particles, 3-D printing has created a solution. With easy
to use apps that perform 3-D face scans, mask fitters can be contoured to your exact face
shape, improving the seal of your mask. Check out the Bellus3D Face app or Bellus3D dental pro
on the apple app store!

Procedural Kits

Increase the usage of kits instead of buying individual
components, when possible. By doing this, you eliminate
the amount of handling of each product when
sealed together. Look for kits like CanalClean™ for
endodontic irrigation. Not only are you saving time with the
elimination of the need for EDTA, CHX, and rinsing agents,
but the cost is no more than that of individual components.
We hope these suggestions help you control the spread of not only COVID-19 but all infectious diseases. We are an innovative company designing new products and methods to help you protect your trusting team members and patients. Vista Apex is a partner in supporting the growth of your practice during these challenging times.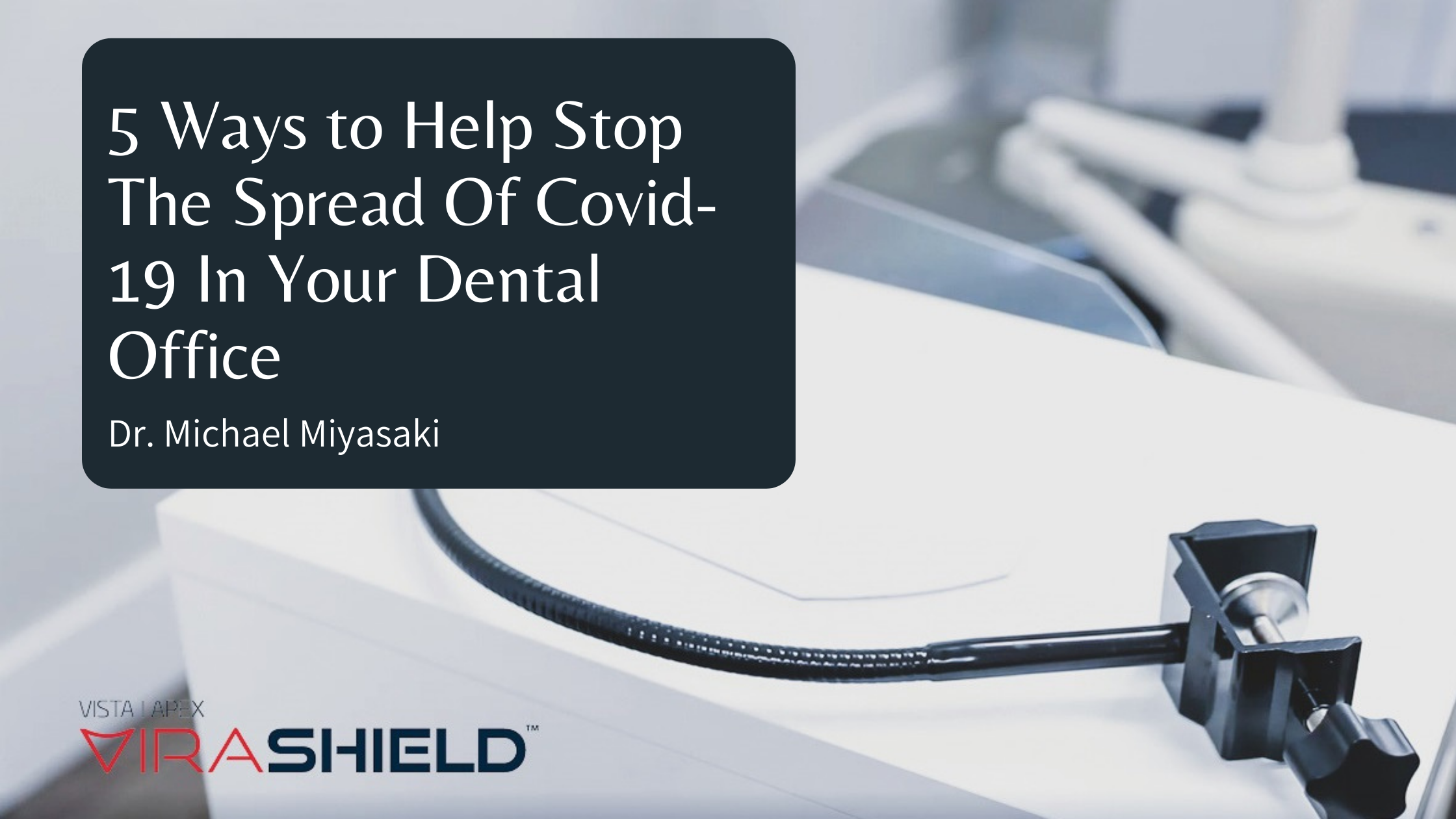 ---
---