Meet Vista Apex – Scott Lamerand, CEO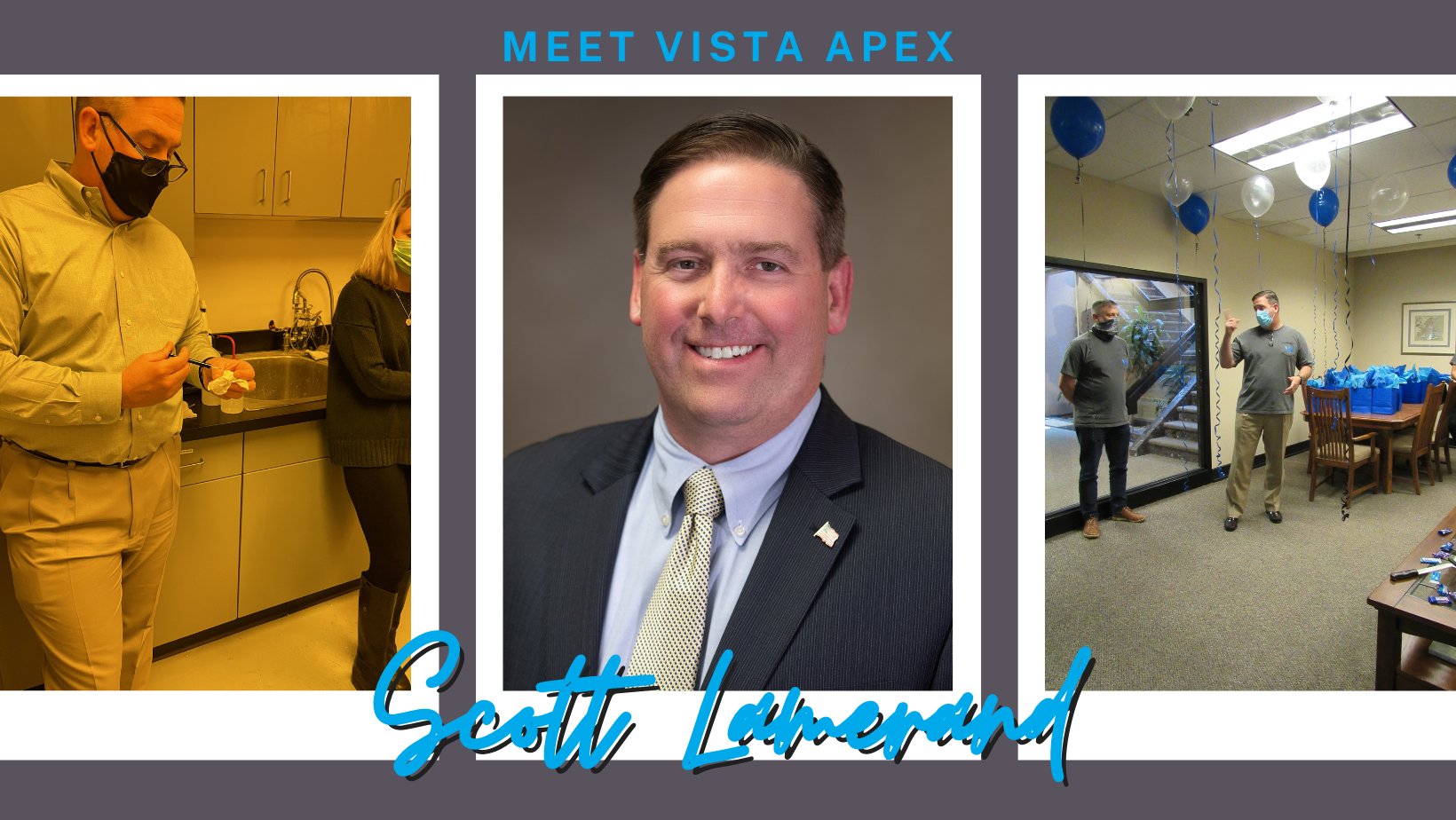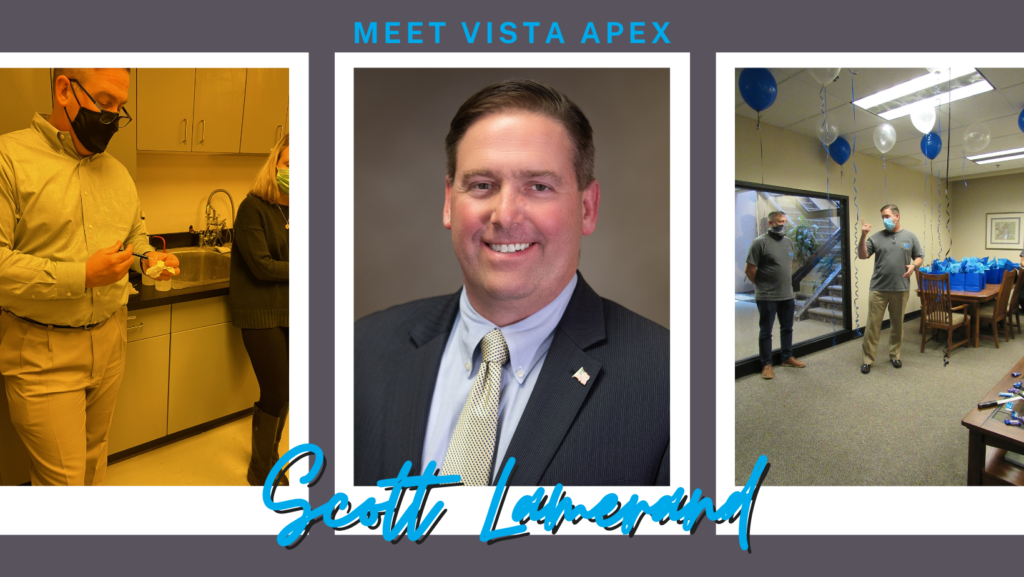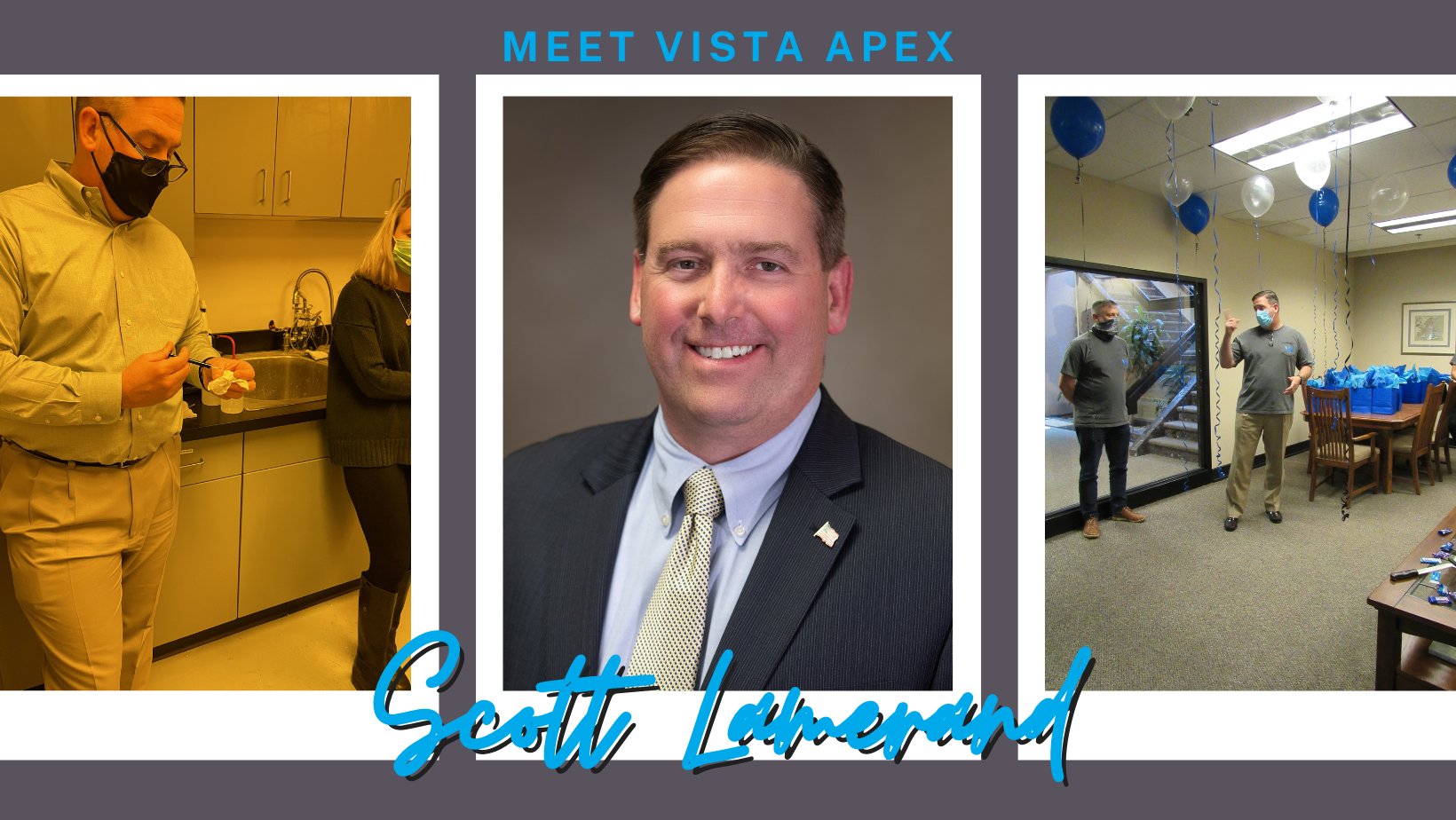 Say Hello to The Man, The Myth, The Legend, Scott Lamerand. The man who didn't miss a day of school between the first day of kindergarten and 8th Grade graduation…..setting a record in receiving the Hartland North coveted "Student of the Quarter" Award throughout Junior High.  A record that can only be tied, never broken. Read on for more about our Rockstar CEO, the man that brings us all together!
Tell us about yourself and how you got here.
When I graduated from the University of Wisconsin-Lacrosse and was looking for places to work, I found Bisco's ad in the employment section of the newspaper….yes, shockingly, I am that old……and joined Bisco as a research chemist. At the time, Bisco was a small dental material's company leading the market in dental adhesives. The great news about working for a small company is that you get to wear many hats and build experience throughout a business. Bisco not only exposed me to the science behind restorative dental materials but also the commercialization process and a look into the dental world from the eyes of KOL's. I worked at Bisco for three years, from 94 until 97, before leaving the dental industry entirely to join the coatings/packaging industries. At that point, I decided to round out my educational background by earning my MBA at Kellogg-Northwestern University. The diverse experiences Bisco provided allowed me to contribute to future companies in many ways. After a few years, I found myself utilizing my business and product development skills in a market manager role with P&L responsibility for $120 million. Things were going well and my career was on a solid path……..then the phone rang and Dr. John Kanca asked me if I would be interested in starting a company making adhesives. That was the day Apex was born. The past 19 years have been a series of ups and downs (more ups than downs) with IGI purchasing Apex in February of 2019.
What is your favorite part about what you do?
My favorite part of this job is working with so many hard-working, talented individuals. Vista Apex is home to an incredible workforce…The Best of the Best. Certainly, we have challenges, but knowing the depth of dedication, work ethic, and skill in each and every person, I know we'll overcome any hurdle in front of us. Watching us confront those challenges and find solutions is exciting.
The most rewarding aspect of my role is watching our strategy be deployed. Many people might not realize it was a group of individuals…..made up of all of you…who set the framework for the current strategy…..the strategy that will take Vista Apex to a new level. There are very few organizations that run strategies developed by EVERYONE on the team. People may have thought it strange that I was working in odd places throughout the building. It was those times that allowed me to learn from all of you. I rely on feedback every day to be sure I'm not creating more hurdles on the path to success. While not perfect, we are running toward a common goal and producing exceptional results, while we live through a pandemic among other challenges. Everyone should be extremely proud of their accomplishments over the past several months.
What makes you Vista Apex?
I'm not Vista Apex. We are Vista Apex. I truly believe we have a unique team and opportunity to do something special for the dental industry and patients worldwide. When you look at the entire industry, no one offers the talents, experience, dedication, and grit that we do. It's what makes us special and different than everyone else. I would not want to compete with the company we are becoming.
More about my Scott
I'm active in my community, serving on the Palatine's Village Council since 2007. I've been married for 21 years and have two incredible kids 18 and 16….they may have been more charming when they were 8 and 6. We know how to work hard and stay steadfast in our goals but have fun too. I believe that we should always be driving forward. It's essential to stay focused on where we're going. In today's world, there is so much negative noise we need to tune out to be able to deliver the excellence we all strive toward.

---
---